RENEWABLE ENERGIES FOR TOURIST ACCOMMODATION BUILDINGS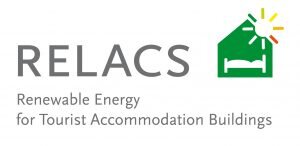 The aim of the project is to involve and motivate at least 50 hotels (including all kind of accommodation-hospitality buildings: hotels, residences, camping, youth hostels, farm tourism, refuges, bed & breakfasts, etc.) throughout Europe in implementing RES measures as well as energy efficiency on their buildings.
In order to reach this goal, the project develops appealing marketing tools, introduces a sustainable energy label, and offers a "final prize" for the most energy-effective hotel. Further goal of the project is to establish a European tourist resort network. In order to promote the creation of the network, the RELACS Consortium assists the hotel managers and staff to implement energy audits and organizes training workshops on the utilization of renewable energy sources and rational use of energy.

Duration: 05/2010 – 04/2013
Financed by: Intelligent Energy Europe
Website: www.relacs.eu