Lake Balaton is involved in several international cooperation activities, for instance the Living Lakes Network (LLN). The LLN, coordinated by the Global Nature Fund, is an international network and partnership whose mission is to enhance the protection, restoration and rehabilitation of lakes, wetlands, other freshwater bodies of the world and their catchment areas.
---
LIVING LAKES MEMBERS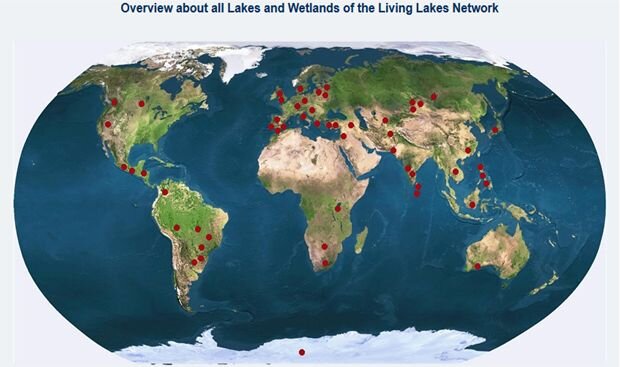 Main Objectives:

Conserving the biodiversity and the preservation of fresh water resources, lakes and wetland ecosystems.
Restoring altered and disappearing wetlands and lake ecosystems.
Improving the quality of life for the local communities (Agenda 21).
Building a commitment towards a sustainable use and development of these ecosystems (for example, through agriculture, fishery, tourism, settlement and water use).
Promoting the use of applied sciences and technologies towards the conservation of these ecosystems.
Supporting educational programs and cooperation with local communities towards the conservation of the biodiversity of these ecosystems.
Disseminating information relevant to these ecosystems.
The network is constantly growing. At the moment, 104 members belong to the network. Lake Balaton has been member of the network since 2004. Due the successful cooperation, the Lake Balaton has close relationships with the other partner lakes from all over the world.
For further information about the network and the member lakes, please visit the website of the Global Nature Fund at http://www.globalnature.org/en/home.